Animal Liberation: The Definitive Classic of the Animal Movement (Paperback)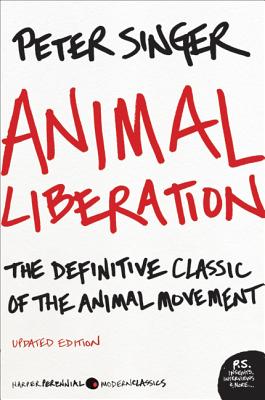 $16.99

Usually Available/Ships in 5-7 Business Days
Description
---
"A most important book that will change the way many of us look at animals—and, ultimately, at ourselves." — Chicago Tribune
Since its original publication in 1975, this groundbreaking work has awakened millions of people to the existence of "speciesism"—our systematic disregard of nonhuman animals—inspiring a worldwide movement to transform our attitudes to animals and eliminate the cruelty we inflict on them.
In Animal Liberation, author Peter Singer exposes the chilling realities of today's "factory farms" and product-testing procedures—destroying the spurious justifications behind them, and offering alternatives to what has become a profound environmental and social as well as moral issue. An important and persuasive appeal to conscience, fairness, decency, and justice, it is essential reading for the supporter and the skeptic alike.
About the Author
---
Peter Singer is widely acknowledged as the father of the animal rights movement and one of the most renowned writers on contemporary ethics. He is co-founder of The Life You Can Save, an organization that aims to help those living in extreme poverty; and Animals Australia, that country's largest and most effective animal organization. His many other books include Why Vegan?, The Life You Can Save, Writings on an Ethical Life, Rethinking Life and Death, and Practical Ethics. Since 1999, Singer has served as Ira W. DeCamp Professor of Bioethics at Princeton University's Center for Human Values. He lives in Princeton, New Jersey.
Praise For…
---
"Singer's documentation is unrhetorical and unemotional, his arguments tight and formidable, for he bases his case on neither personal nor religious nor highly abstract philosophical principles, but on moral positions most of us already accept." — New York Times Book Review
"A most important book that will change the way many of us look at animals—and, ultimately, at ourselves." — Chicago Tribune
"This book is a must . . . not just for every animal lover but forevery civilized reader." — Cleveland Amory
"A most important and responsible work. Everyone ought to read it, and ponder deeply whether we do not need to change our view of the world and our responsibility toward its creatures." —  Richard Adams, author of Watership Down
"This book can't help but make you think twice about whether or not animals have rights. It is so lucid and smart and thoroughly researched, without a hint of hysteria. I couldn't put it down." — Rick Moody, author of The Ice Storm