The Graveyard Book (Paperback)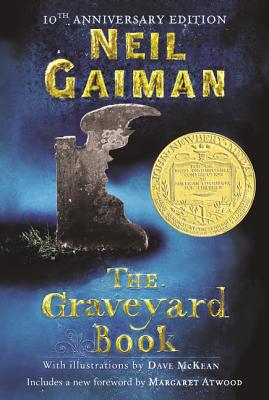 $10.99

Usually Available/Ships in 5-7 Business Days
Fall 2008 Kids' List
---
"A delightfully layered story of Nobody Owens, who is raised by the semi-living and the dead in a graveyard. Gaiman uses wit and his depth of knowledge of the arcane to create a safe and nurturing world for the young orphan to grow and thrive in. This will be a joy for all ages!"
— Jane Jacobs, Porter Square Books, Cambridge, MA
Description
---
The 10th anniversary edition of The Graveyard Book includes a foreword by Margaret Atwood as well as sketches from the illustrator, handwritten drafts, and Neil Gaiman's Newbery acceptance speech.
IT TAKES A GRAVEYARD TO RAISE A CHILD.
Nobody Owens, known as Bod, is a normal boy. He would be completely normal if he didn't live in a graveyard, being raised by ghosts, with a guardian who belongs to neither the world of the living nor the dead. There are adventures in the graveyard for a boy—an ancient Indigo Man, a gateway to the abandoned city of ghouls, the strange and terrible Sleer. But if Bod leaves the graveyard, he will be in danger from the man Jack—who has already killed Bod's family.
The Graveyard Book, a modern classic, is the only work ever to win both the Newbery (US) and Carnegie (UK) medals.
About the Author
---
Neil Gaiman is a #1 New York Times bestselling author of books for children and adults whose award-winning titles include Norse Mythology, American Gods, The Graveyard Book, Good Omens (with Terry Pratchett), Coraline, and The Sandman graphic novels. Neil Gaiman is a Goodwill Ambassador for UNHCR and Professor in the Arts at Bard College.
Dave McKean is best known for his work on Neil Gaiman's Sandman series of graphic novels and for his CD covers for musicians from Tori Amos to Alice Cooper. He also illustrated Neil Gaiman's picture books The Day I Swapped My Dad for Two Goldfish, The Wolves in the Walls, and Crazy Hair. He is a cult figure in the comic book world, and is also a photographer.
Margaret Atwood, general editor, is the author of more than fifty books of fiction, poetry, critical essays and graphic novels. Her latest novel was 2019's The Testaments, a co-winner of that year's Booker Prize and a sequel to The Handmaid's Tale.
Praise For…
---
"The Graveyard Book, by turns exciting and witty, sinister and tender, shows Gaiman at the top of his form. In this novel of wonder, Neil Gaiman follows in the footsteps of long-ago storytellers, weaving a tale of unforgettable enchantment." — New York Times Book Review
"Like a bite of dark Halloween chocolate, this novel proves rich, bittersweet and very satisfying." — Washington Post
"Wistful, witty, wise—and creepy. This needs to be read by anyone who is or has ever been a child." — Kirkus Reviews (starred review)
"This is an utterly captivating tale that is cleverly told through an entertaining cast of ghostly characters. There is plenty of darkness, but the novel's ultimate message is strong and life affirming….this is a rich story with broad appeal. " — Booklist (starred review)
"Lucid, evocative prose and dark fairy-tale motifs imbue the story with a dreamlike quality. …this ghost-story-cum-coming-of-age-novel as readable as it is accomplished." — Horn Book (starred review)
"This is, quite frankly, the best book Neil Gaiman has ever written. How he has managed to combine fascinating, friendly, frightening and fearsome in one fantasy I shall never know, but he has pulled it off magnificently - perfect for Halloween and any other time of the year." — Diana Wynne Jones, author of The Chronicles of Chrestomanci
"I wish my younger self could have had the opportunity to read and re-read this wonderful book, and my older self wishes that I had written it." — Garth Nix, author of The Abhorsen Trilogy
"It takes a graveyard to raise a child. My favorite thing about this book was watching Bod grow up in his fine crumbly graveyard with his dead and living friends. The Graveyard Book is another surprising and terrific book from Neil Gaiman." — Audrey Niffenegger, author of The Time Traveler's Wife
"After finishing The Graveyard Book, I had only one thought — I hope there's more. I want to see more of the adventures of Nobody Owens, and there is no higher praise for a book." — Laurell K. Hamilton, author of the Anita Blake: Vampire Hunter novels
"The Graveyard Book is endlessly inventive, masterfully told and, like Bod himself, too clever to fit into only one place. This is a book for everyone. You will love it to death." — Holly Black, co–creator of The Spiderwick Chronicles
"The Graveyard Book manages the remarkable feat of playing delightful jazz riffs on Kipling's classic Jungle Books. One might call this book a small jewel, but in fact it's much bigger within than it looks from the outside." — Peter S. Beagle, author of The Last Unicorn
The Graveyard Book is everything everyone loves about Neil Gaiman, only multiplied many times over, a novel that showcases his effortless feel for narrative, his flawless instincts for suspense, and above all, his dark, almost silky sense of humor. — Joe Hill, author of Heart–Shaped Box